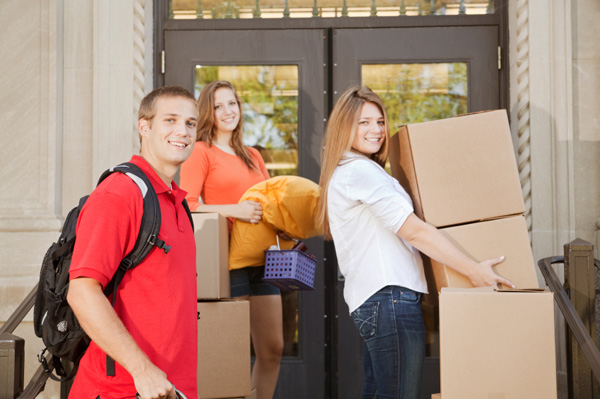 Attending college can be very exciting – new surroundings, new friends and a new course of life. But there are some hard parts as well – you may be leaving your home for the first time, you will have to adjust yourself to the dorm life and adjust to the new environment as well. One more thing that you need to think about is moving your belongings to the college dorm or the apartment you rented.
No matter how well you plan, things can become very confusing when you actually start packing and moving things. First of all, you have to sort out the things you want to take and the ones you want to leave back. Remember, you can't take the entire home with you. So you need pack only the essential things that you can't do without. Once you have sorted out the things, start packing them securely in suitcases, cartons and trunks. Pack all the things carefully and label each box (with your name and address) on both sides. Carry a few things that you'll need during the first 2 to 3 days with you.
When the packing is done, you need to think about ways in which you can move your things to the new destination. There are several options, and you have to choose the one that fits you perfectly.
Many students choose to move their things on their own by renting a car. This is perfect for students who don't have too many things to be moved. Moving your belongings by car is also the cheapest way to shift your belongings to a new place, unless you are moving overseas.
But, if you are under 21 years then you might have difficulty hiring a car. Many car rental companies forbid 21 years old car hire options since young drivers are considered high risk customers. Most accidents and car damages are reported by young drivers, so the car rental companies are reluctant to hire their cars to young drivers. Even if you manage to hire a car, be prepared to pay high surcharges. If you want to keep things cheap, you can hire a car in your dad's name and ask him to drive you to college.
If you are not able to find any 21 years old car hire deals, then the second most suitable choice is moving things by bus. You can either carry your belongings in the same bus you are travelling or choose a bus cargo, while you move to the new place via train, plane or some other bus services.
This is recommended for students who are moving into an apartment and shifting many things at a time. Remember, trucks and vans are available in many sizes, so choose the one that will accommodate things perfectly. If many of your friends are moving to the same destination, you can hire a large truck and share the cost as well. You can also opt to hire a van and move things yourself. But similar to car rental, you may have problems hiring a truck or van, if you're 21 years old or younger.
This is the most expensive option. If you are moving overseas, then this might be the only way to move things. If you are moving things by plane, you need to be very organized – pack things carefully, label properly and make sure you reach the destination before your belongings are delivered.
Planning and organization can minimize the amount of confusion and stress while moving, so make sure you have a good idea of the things you want to carry and the options available to move the things. Plan ahead and enjoy packing!